Benefits of Composite Decking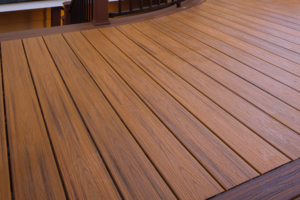 You've probably heard that composite decking delivers durability, easy maintenance and lasting beauty, while offering all the look of wood without the hassles of continuous upkeep. New Castle is a composite deck builder. Did you know that Trex® composites are made from 95% recycled content? It's a great choice for our customers that are eco-conscious.
Check out these benefits of composite decking material:
Composite is slip-resistant and splinter-free. In fact, Trex is the only ADA slip-resistant compliant product on the market. It is installed with innovative hidden fasteners, so no nails or screws need to go through the deck itself. Feel free to go barefoot!
A big benefit to Composite decking is its low maintenance. It is made of a mix of waste wood or cellulose fiber and plastic and usually requires occasional cleaning. In addition to being quick and easy to clean, you don't need to paint, stain or seal it. We also offer non-wood railings in a variety of materials, including composite, vinyl, glass and metal.
Composite decking material is durable. Regular decking can be made to look great, but it weathers easily. Hard rains, bright sun and high heat can cause regular decking to fade and warp. Composite is UV-stabilized so it won't crack or disintegrate due to sun exposure. Composite decking is resistant to mold. It won't split, splinter or rot, so it's well-suited to environmental impacts and it will last much longer. It is estimated that most decks last between 15-20 years, compared to composite which lasts 30 years or more.
Composite decking looks great and has endless design possibilities. Considering that nails and screws are not seen, the deck will have a modern feel with a smooth surface. Not only does it look great, composite can visually match traditional timber or exotic hardwood. It comes in a range of colors to complement any outdoor living space. Trex composite decking is guaranteed not to fade.
ROI. It's true that the initial cost of wood is typically less in comparison to composite. In order to achieve maximum life span of a pressure-treated deck, it is necessary to clean, stain and reseal twice a year! When you add in the cost of maintenance on wood decks, such as cleaning and sealing every few years, a composite deck comes out on top. Should you choose hardwoods such as IPE or Tigerwood know that these naturally have a 50 plus year lifespan without any sealing or maintenance! However, If you want to keep the lustrous wood look, they should be thoroughly cleaned and re-oiled using high-quality IPE oil at least once a year. Trex can cost close to double that of a pressure treated deck, but after 5 years it becomes less expensive. With Trex, the only maintenance you have is cleaning for esthetics. As a composite deck builder, we can install your deck properly, and it should look beautiful forever. It is a great investment.
CONTACT NEW CASTLE BUILDING GROUP!