Elements to the Perfect Outdoor Kitchen
Whether you've made the decision to build your outdoor kitchen or have questions about how to get started, New Castle Building Group can help. Owner Jason Alloway, provides some thoughtful tips and tricks for planning the ultimate outdoor kitchen experience.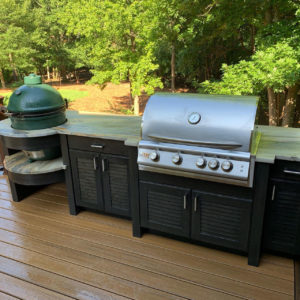 Keep in mind, an outdoor kitchen serves as an extension of your home. You'll need to decide where you want your outdoor kitchen placed, taking into consideration the traffic flow from your house to your yard. If you're building for frequent entertaining, you won't want to travel a long distance from the indoor kitchen to the outside and vice versa.
Deciding what appliances you'll use most, will impact the floor plan and counter spacing of your new kitchen. Your New Castle professional can assist you with creating the layout of your outdoor area if you need assistance.
Just like your indoor kitchen, you'll need plenty of storage. The difference is they must all be waterproof and durable to temperature changes. We partner with NatureKast who has revolutionized the industry with 100% weatherproof cabinetry, panels, trim and more with the look & feel of real cypress or teak. They are available in stain, paint or weathered finishes to complement your decking or patio setting.
Make sure you incorporate features to make this space the entertainment center of your backyard. Lighting creates ambiance and comfortable furniture is more inviting for guests to stay and play longer. Add ceiling fans, outdoor speakers, and a place to keep cold beverages and your house will be the place to be this summer or fall.
An outdoor living project is a great investment for your home and family. New Castle Building Group can help make your outdoor kitchen dreams come true. Call us today at 678-982-4173 for more information or contact us using the form below.
CONTACT NEW CASTLE BUILDING GROUP!