Invest in Your Home with an Outdoor Living Area
Your outdoor living area should include a space for sitting and relaxing, along with a coffee table or work area. Taking it further, think about a grilling solution with cabinets, architectural elements, decorative elements and plants.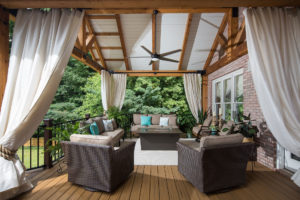 Be creative! We are asked all the time, "How do we get started?". Begin by taking an inventory of what you currently have and want to use as part of your outdoor living space. Next, make a list of things you would like to see as part of your outdoor living space. Your New Castle professional can help refine that list based on your existing space and your budget. Our professionals can assist you with creating the layout of your outdoor area if you need assistance.
You might prefer concrete or stone, depending on your space. Pavers can also be used to accent or define the yard creating a neat look. We can also help with features like a pool, an Endless Swim spa or jacuzzi. Don't forget flowers, shrubs and trees that will add to the aesthetics of your yard. An arbor looks great with hanging plants. And pergolas do a nice job of providing shade. Smartly placed trees and shrubs can also provide privacy.
An outdoor living project is a great investment for your home, adding value and curb appeal as well. New Castle Building Group can help make your outdoor living dreams come true. Call us today at 678-982-4173 for more information or contact us using the form below.
CONTACT NEW CASTLE BUILDING GROUP!